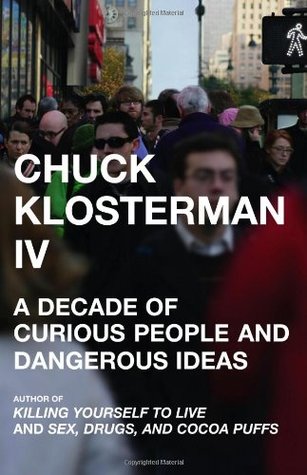 I first learned about Chuck Klosterman through my friend, who is a nonfiction writer and swears by his essay collections. Klosterman is primarily a music writer (imagine Lester Bangs if he had grown up in the golden age of hair metal) and most of the writings featured here are from Spin and Esquire. The collection is framed as a retrospective, with Klosterman introducing pieces by commenting on how his views have changed by then, or why he now hates the article he's about to share (he even includes articles on the Fargo rock scene that he wrote when he was twenty-three, and he's appropriately embarrassed about it). The include celebrity profiles, "Best Of" lists, what-if scenarios, and musings on VH1 Classics and the Olympics. At their best, his essays blend pop culture and philosophy seamlessly – the book is worth it just for the article detailing the time Klosterman met Britney Spears and tried to unravel the mystery of who she actually is vs. who she pretends to be ("After I spent my time with Spears, people kept asking me, 'What is she really like?' My answer was usually, 'I don't know, and I don't think she does, either.'").
I'll be the first to admit that my music tastes are not very refined, so it was sort of a relief to see Klosterman writing almost exclusively about bands that I had actually heard of. He writes most frequently about bands he grew up listening to in the 80's, but there are also some fascinating profiles of The White Stripes and Radiohead ("Everyone in this band reads more than you do; hanging out with Radiohead is kind of like getting high with a bunch of librarians."). I was worried that Klosterman would turn out to be a music snob, and he sort of is, but for the most part, he presents his love of pop music frankly and matter-of-factly, and I always appreciate someone who acknowledges that popular culture becomes popular because lots of people like it, and that's not a bad thing. His revelation (helped by Wilco's Jeff Tweedy) that he actually kind of likes Jet is great:
"Now, nearly everybody I know thinks Jet is ridiculous; they've become the band hipsters are legally required to hate. So I made some joke (and I have no idea why) about how Jet was terrible and that it was somehow predictable that the only people who would want to cover Jet songs would be second graders. Tweedy didn't understand why I would say something like that. He looked at me like I had just made fun of a quadriplegic and asked, 'Well, don't you like rock music?' And then I felt stupid, because I realized that (a) Jet plays rock music, and that (b) I like rock music, and that (c) I actually liked Jet, both tangibly and intangibly. So that was something I realized about Jeff Tweedy: musically, he remembers what is obvious."
Another great example of Chuck Klosterman's refreshing lack of musical snobbery:
"I've probably written more about tribute bands than any sensible man should. I really like them, though. Tribute bands often reflect what I like about rock n' roll more than the authentic bands they replicate."
(this passage comes at the beginning of a piece about all-female cover bands with names like AC/DShe and Lez Zeppelin, and it is fantastic)
The only rough patch is at the end, when Klosterman includes an excerpt from a book that he tried to write when he was a reporter for a newspaper in Akron, and I suspect he included it for the dual purpose of proving how unashamed he is by what a terrible writer he used to be, and the hope that someone would tell him it's actually very good.
Overall, a great collection of essays that are in-depth and thoughtful enough for hardcore fans, and frank and approachable enough for the casual reader.
Verdict: four out of five stars